Those that work with me know that I am a huge fan of the products put out by 37Signals. They have created some great apps that are simple, clean, and rock solid. The concepts aren't always new, but they have made it so anyone can login in and hit the ground running. There is a *lot* to be said about that ability to have well design applications. I can't say enough great things about their apps!
However, they are not without fault. I'm finally moving from a free plan to a solo plan in my backpack account. I am doing enough side programming jobs for friends and family that having a page for each project just makes sense. So I'm finally moving up to the solo account to add more pages, space and overall functionality. While I was on the upgrade page, there was something that stuck out to me as just not adding up. Take a look at the packages below: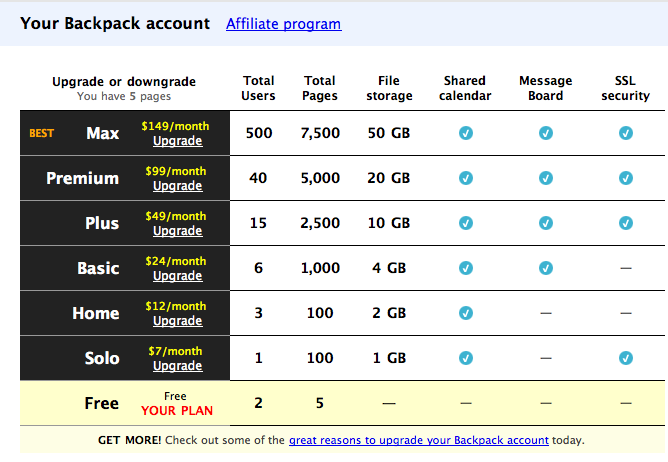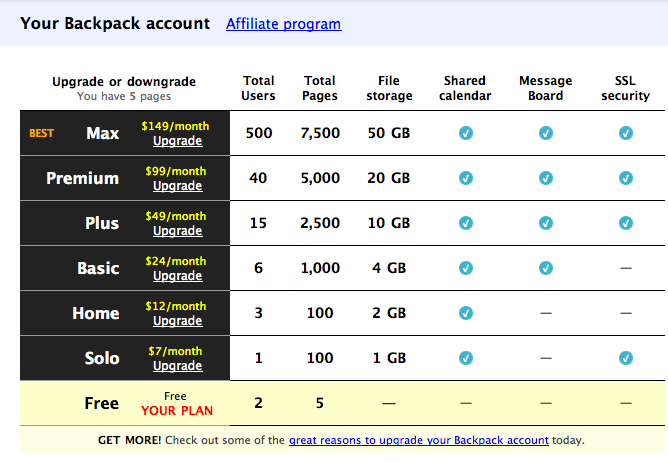 I'm all for having limits to packages. It makes sense. It makes you want to upgrade to the next level. What I don't understand is the SSL Security. I get it on a solo level but once I move to the home or basic level I lose it? Logically, that removes my desire to upgrade. Sure, I could skip to the plus level, but that is a big step up in price from the $7/mo solo plan. This seems like a short coming and something that quite frankly, should be a standard option for those paying a fee on a monthly basis.
With that being said, if you are looking to see for yourself how great these application are, please use the following affiliate links to help support this blog. All the products have a free plan of some sort so give it a try today!
Basecamp – a great for project management,
BackPack – You can setup your own personal intranet site or use it for your entire company.
Highrise – manage your contacts, leads and deals.